RailTek represents STANLEY Infrastructure maintenance of way railroad tools including impact wrenches, grinders, drills and welders.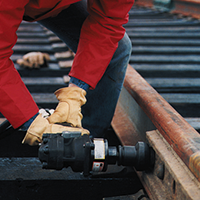 Stanley Infrastructure is leading the railroad industry in technological advancement and innovation in products for railroad track maintenance and related support. Click here for more information on Stanley Infrastructure.
Contact a RailTek representative at 610-558-1313 or by email here for further details, pricing and specifications on the Stanley Infrastructure Hydraulic Railroad Tools.